Have you ever noticed how perfectly the Santa's reindeer and Rudolph stories lend themselves to teaching kids about counting by twos? The reindeer are paired up in the
Rudolph the Red-Nosed Reindeer
song and in Santa's famous line at the end of the classic story
Twas the Night Before Christmas
. The teachable moment is just sitting in front us begging to be used! Perhaps that is why I, That Fun Math Reading Teacher, have started passing on this
Phrasing and Fluency Reader
to teachers as a math resource as well. (
For anyone who may have purchased it more than a year ago, please go back to your purchases page and download an updated version.
) Last year I was using
10 at the Sled
primarily for the phrasing, fluency and fun factor. That is, after all, the purpose for which it was written in the first place. It can be sung to the tune of
Ten in the Bed
, and even if students are not familiar with the song, they do catch on to the simple melody quickly and enjoy the repetition. They also hear how certain words fall together naturally to create phrases.
After several requests for a black and white student booklet last year, I created one over the summer, using speech bubbles where there are quotation marks used in the color edition:
---
---
I wanted to show students what quotation marks really mean, in a visual way, rather than only telling them. I am finding that with this year's students, this concrete approach has made a huge difference. We compare my color copy with their black and white copy and discuss how quotation marks and speech bubbles really serve the same purpose. *Lightbulb moment*!
The tone, expression (and curiously deep voices) they use when reading the 'spoken' lines are hilarious! But clearly, meaningful to them!
Thank you to all of the teacher bloggers who provided feedback during the Christmas in July sale that led to these revisions.
Enjoy these last two weeks!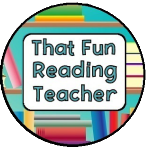 http://thatfunreadingteacher.com/
ThatFunReadingTeacher@gmail.com
Click the symbol above to access my TpT Store! ;)
---
---
What are your favorite ways to bring various subject areas together? Here are some of mine:
---
---
Follow That Fun Reading Teacher's board Math and Literacy Fun on Pinterest.