By Sparking Children's Thinkibility
Grades Kindergarten-4th English Language Arts, Balanced Literacy, Writing
Writing activities should be exciting and what could be more exciting than writing a journal about things that you have done together with an alien.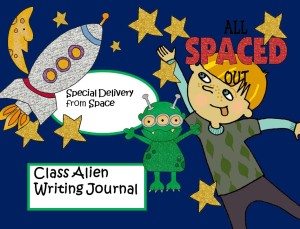 Imagine how fun it would be to write about the day when you took an alien with you to after school activities, showed the alien what we eat for dinner on Earth, read a bedtime story, and then watched the night sky and searched for the alien's home planet.
I strongly believe that astronomy is a very important topic. Exploring the possibilities of life on other planets easily captures children's attention but it also makes children value and consider things on Earth in a different way. Learning to consider the perspective of other people, animals and even aliens is a great thinking tool that is useful in lots of situations, from persuasive writing to feeling empathy with other living creatures. Good problems solvers are skilled at twisting and turning viewpoints around and imagining the situation from several different perspectives.
The developmental psychologist Jean Piaget often discussed the importance of shifting the perspective. Other people's view (OPV) is also a thinking tool suggest by Edward de Bono. I like to add my own twist by including animals in the thinking tool developed by Edward. And now I have added some aliens as well!
Below is an excerpt from the booklet "
Class Alien Writing Journal
"
Dear Earthlings,
Thank you for accepting and welcoming our alien friend.
This alien is visiting Earth to learn more about you and your home . . .
. . . Remember the alien might feel a bit homesick so make sure that you study the sky together every day.
Alien regards
Alien nr 50 000 000 U.N.O.
Link to
Class Alien Writing Journal
This package contains instructions, journal pages, alien stamps, and posters.
I would be delighted if you like to follow me on.
Follow the Sparking Children's Thinkibility TpT Store
Follow the Sparking Children's Thinkibility Blog
Follow the Sparking Children's Thinkibility Pinterest
Follow the Sparking Children's Thinkibility Facebook Page